An Event Submission Page enables members, staff or visitors to submit Events into your Event Registration System.
To add an Event Submission Page to your website, create a New Page as described in the Reference manual under Buz CMS > Web Page Management > New Page. For "This page will be a: ", select Event Submission: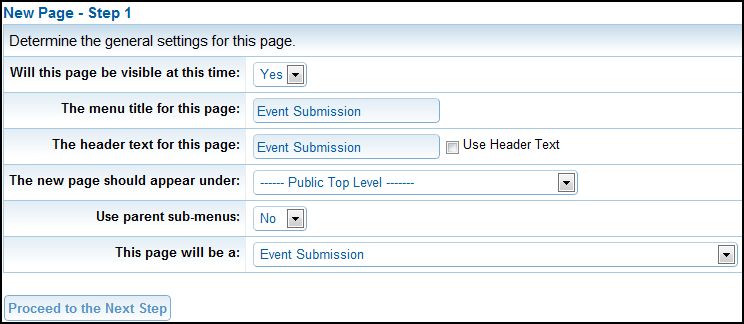 Select the Page Ranking and click "Proceed to the Next Step".
You will be brought to the text editor, which includes this menu:
Event Information: Select one of the two radio buttons to decide if you want those submitting an event to fill out basic information only, or the full event details.
Send Event Submission Notices to: Provide an email address for the person who is in charge of event submission information.
Assign events to Calendar: Select which calendar submitted events will be posted to.
Additional Options: Choose whether the submitter will automatically be approved for their event, or they will have to be approved; select whether the submitter will be allowed to select which calendar their event is posted to, or if you are the only one permitted to assign events to calendars.
---
Add any keywords etc that you wish to add for Search Engine Optimization. For more information, see Search Engine Optimization in the Reference Guide.
Next add desired page text, then select Publish Page to complete the page creation.
For instructions on configuring and managing the Event Registration System, go to Buz ERS in the Reference manual.