WebCommunicator offers quick and easy integration to free Google features and products. These include creating a sitemap for Google to use in their search engine (this makes your website more likely to come up in searches), having access to Analytics and inputting Google maps to use in your website. Please note that you must have a Google account to make use of the sitemap and Analytics features.
Upon your first entry into the Google Integration section, you will see a check list like the one below:
Continue reading to learn how to set up these features.
Google Sitemap
These steps will guide you through the process of generating a sitemap and adding it to your Google account. Doing this will increase the chances of your website appearing in a search. Just follow the on-screen instructions in the "Sitemap" bookmark:
In case it is not clearly outlined, the URL in the very last step will vary depending on what your site name is. When you begin following these steps you will notice that an actual web address replaces the "(URL will vary)" note.
Google Analytics
Analytics is a program that displays detailed information about your website's hits. It is very useful to be able to access web page statistics such as who is accessing your website, how often, and which pages are most popular. Perhaps you can use this information to target a larger audience, to modify your site to focus on a more widespread demographic, or even to decide which pages should be the most accessible and higher ranked in your page hierarchy. To activate this feature, go to the "Analytics" tab and follow the steps directly on your screen: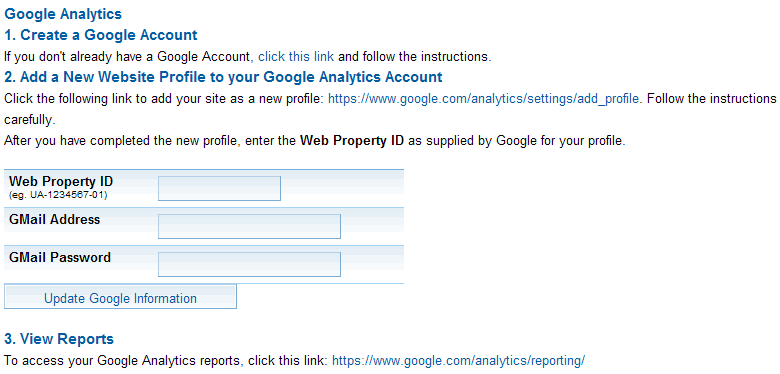 The GMail address and password fields are optional and may serve a purpose in the future.
Google Maps
This particular feature does not require a Google account. Simply complete the instructions in "Maps":
Press "Update Google Information' to complete the process.
Note: This is one of the tools that Buz offers for Optimizing the Searchability of your website. For more ways to make your site the most searchable see Search Engine Optimization in the Reference Guide.