A File Cabinet page is a metaphor for a file cabinet. Upload and share files with your colleagues and members.
To add a File Cabinet page to your website, create a New Page as described in the Reference manual under Buz CMS > Web Page Management > New Page. For "This page will be a: ", select, File Cabinet.
At New Page - Step3, complete the Additional Options as follows:
Selecting the check-box beside Allow users to upload files to this page will allow others to upload files to the page.
Caution: All viewers of the page will be able to upload files. Consider the security and control implications before enabling this feature. It is best used in a collaborative group environment.
Select the display options by clicking the appropriate check-boxes.
Select from the list which uploaded files you wish to appear in the file cabinet. There is no need to select any files when creating the page. Files can be uploaded to the file cabinet at a later time.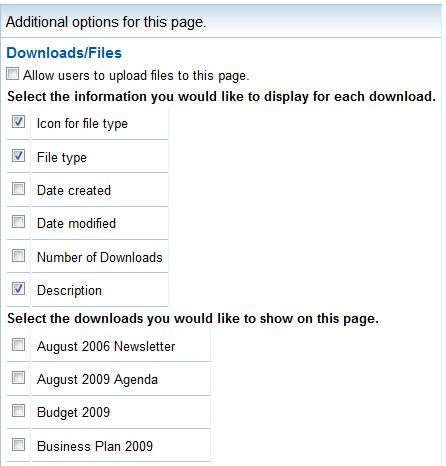 Next add desired page text, then select Publish Page to complete the page creation.
For instructions on managing a File Cabinet, go to Reference Guide

Buz CMS

WEB PAGE MANAGEMENT

Downloads in the Reference Guide.