Use the options in Text Properties to control the color, style, and format of the text and hyperlinks throughout the section using this profile. These settings will be overridden if you use the more advanced style sheets. The first section of Text Properties allows you to control the look of the main text of the site.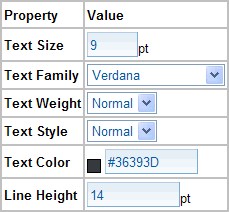 If you are comfortable with word processing software, these fields will be familiar to you:
Text Size

:

Change the size of the text by entering different numerical values. The most common fonts are 10 and 12. For best viewing results and to maximize informational space, we recommend a 10 pt font.

Text Family

:

Here you have a selection of the most commonly used fonts. These fonts will always appear correctly, regardless of the browser. To choose a Text Family, press on the drop-down arrow. Click on the text family you'd like to use.

Text Weight

:

Select between Normal and Bold by using the drop-down menu to set the thickness of your text.

Text Style

:

Set the style of your text by choosing Normal or Italic from the drop-down menu.

Text Color

:

The text color will default to black. By clicking on the little black square, the Color Picker Tool box will pop up, allowing you to select another color.

Line Height

:

Depending on how you want your text to look, you may want there to be additional spacing between the lines. Be sure to make your line height more than the size of the font you have chosen!
Use the second section, link properties, to customize the appearance of the hyperlinks throughout your profile (not on navigation menus, but within the main content). There are four different states in which a link can appear: Normal, Hover (as the mouse goes over the link), Active (as the link is clicked and opened), and Visited (a link that has already been viewed).
You must fill out each of the options described above for each state of a link, with one additional field:

Link Decoration

:

To make your links stand out, you can elect to add a decoration such as Underline, Overline or Line-Through. To choose one of these options, click on the drop-down arrow, and in the list that opens, click on your choice.
When you have completed revising the text properties for your website, press the "Update Text Properties" button. Your changes will be saved and applied immediately.