The 'Member Desktop' provides your members with a clean, organized landing page to visit when entering the private side of your website. The Member Desktop provides current and relevant information at a glance, as well as convenient quick links that allow them to navigate your site with greater ease. If you are interested in implementing the Member Desktop on your site, please contact a member of the BuzSoftware Support team.
Click on "Member Desktop" in the the Web Page Management menu to begin creating your member home.
Decide which page components you want to make available to your members. For more information on Page Components visit the Page Components section of the Reference Guide.
In addition to the standard page components, there are some additional ones available for display on the Member Desktop:
Daily Message: Displays the daily message created in the Daily Message Area.
Quick Links: Provides links to pages of interest in your website. Similar to Favorites, but not customizable.
Slideshow: Select a slideshow from your Slideshows to put on the member desktop.
News: Similiar to the events, but displays news items.
My Golf: Informs the member if they have upcoming tee times and privides links to other golf related pages such as Tournament Results.
Just check the boxes of the desired components and press "Update Options" to complete the process.
Please note that if one of the selected components does not have any content to display it will not appear on your page. To learn about how to change this, see Page Components.
Quick Links
You should notice two bookmarks in the toolbar called "Quick Links" and "Add Quick Link". Use these to manage the quick links that appear in your quick links component, if it is selected in "Options", to appear on the member home. The following list will appear upon entering the Quick Links bookmark: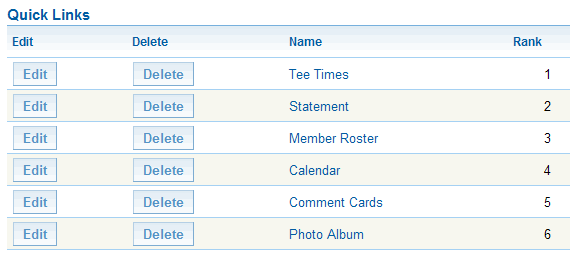 Press "Edit" or the link name to edit the corresponding link and "Delete" to delete it. Click on "Add Quick Link" in the toolbar to begin creating a new link. Both sets of fields are identical, so they are shown and described below.
Link Name: Enter the link name here.
Rank: Use the rank to determine the order the links appear, lowest to highest number.Note: Remember to space these with a few numbers between them, to allow for additional information you may wish to file between them in the future.
Target: Indicates how the the page will appear when the link is clicked.
Select Page: Choose the page on your website to link to.
Icon: Choose an icon to go beside the link if you wish.
To complete the process, press "Edit Quick Link" (for editing) or "Add Quick Link" (for adding).