This function is only available in creating and editing emails. It is used to personalize your Broadcast Emails by inserting information obtained from your Buz People database.
Place your cursor where you would like your data variable to appear in your text and then click on the
button. The "Insert Data Variable" popup will appear.
There are six options in this popup:

First Name: Inserts the first name of the recipient.
Last Name: Inserts the last name of the recipient.
Username: Inserts the username of the recipient.
Password: Inserts the recipient's password.
Member ID: Inserts the recipient's member ID.
UnSubsribe Link: Provides the option for the recipient to unsubscribe from the email list.
After inserting the First Name and Last Name data variables, your email will appear as follows:
But to the recipients, Fred Smith and Sam Winter, it would look like: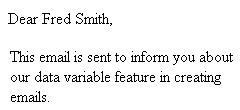 or