A Member/User Info Update page is used to collect and store custom information about your members. Examples include, clothing size, boat details and what's in the bag (details of a golfer's golf clubs).
To add a Member/User Info Update page to your website, create a New Page as described in the Reference manual under Buz CMS > Web Page Management > New Page. For "This page will be a: ", select, Member/Uer Update page.
At New Page - Step 3, complete the Additional Options by:
Selecting the custom field categories for which you wish to collect data.
Select View/Edit Settings
Entering the email address to which updates will be sent.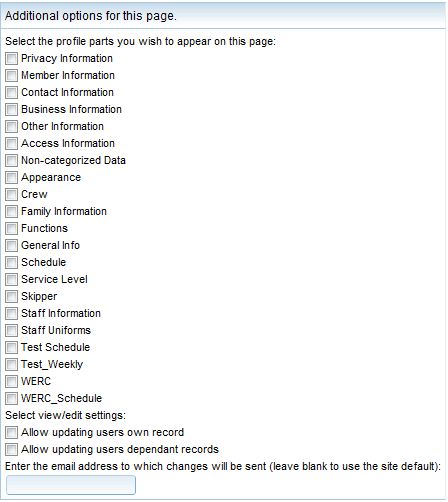 Next add desired page text, then select Publish Page to complete the page creation.
For instructions on managing Custom Fields, go to Reference Guide
Buz CMS
GENERAL ADMIN
Custom Fields in the Reference Guide.