Photo Albums can be an essential part of your web site; Displaying photos of past events, can encourage your members to attend upcoming events or serve as a membership marketing tool. It can also provide the means of displaying club facilities in an organized fashion.
To add a photo album to your website, create a New Page as described in the Reference manual under Buz CMS > Web Page Management > New Page. For "This page will be a: ", select Photo Album.
For instructions on uploading photos that will be displayed on the page, go to Buz CMS > Web Page Management > Photos in the Reference manual.
Options
When you create a Photo Album page, you have a couple of options for the layout of your Photo Album.
Option 1 will consist of a larger photo. You will have the option of including small thumbnail versions of the photos beneath. Visitors can click on a thumbnail to see the photo selected in the larger photo location. If Show Slide Show Controls is selected, "Forward" and "Back" options will appear beneath the viewing box.
Option 2 will display small thumbnail versions of the photos. When a visitor clicks on a thumbnail, the website will fade in the background and the photo will open on top of the page.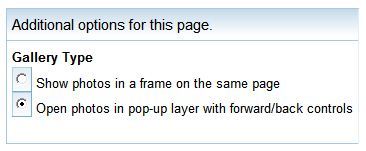 You can see an example on the Buz Software demo site at: